Leaders: Hear extra now than ever
Some leaders believe that listening is a gentle skill (possibly even overrated), others consider themselves good listeners, and some know that it is a skill that they need to work on. Regardless of where you fall into the spectrum, one thing is certain: listening is a big part of your job right now.
Part of what has changed since we all witnessed the COVID 19 outbreak and unrest is the urgent need for managers to listen to their employees and understand the challenges they face in dealing with the uncertain and constantly changing Facing today's situation.
Listening is one of the most important things you can do now
Listen is one of the most important things you can do now. This is a sign of respect for the person you are communicating with. The better we listen, the better we can understand each other.
If listening is done well and sincerely,
We understand each other better than people.
The better you listen to others; the better they will listen to you.
The better you listenThe more information and insights you can gather, which are helpful to control collaboration with colleagues or to have productive and targeted discussions with your team.
The better you listen today, the more you learn about the needs, concerns and concerns of your employees so that you can empathize with and support them. When employees feel heard and their needs are recognized and addressed, they feel more like part of an inclusive team that welcomes their unique experiences and provides a safe place to openly share their perspectives.
The 4 most common obstacles to effective listening
Here are some common barriers that can prevent real listening. Think about which of these you may need to know better yourself:
Think more about what you say than what you hear.
When deciding what to say next, before the person you speak to ends what they say.
Give what you say a higher priority than the person you are talking to.
After all, don't work on listening. By working on your hearing skills, you can meet the needs of your employees. Who fights Who might need a break to process everything that is going on?
Which of these obstacles, if addressed, can have the greatest positive impact on your ability to better serve your employees' needs in these difficult times?
– David Grossman
Leader: Don't ignore it. Click below for strategies that you can use to inform your employees today about the ongoing unrest.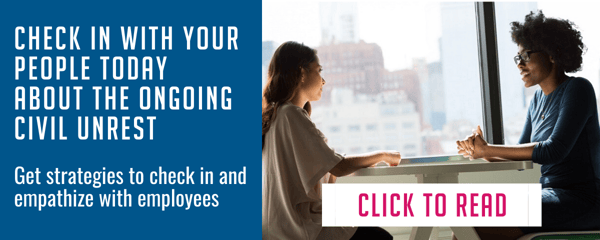 COMMENTS