humanize PPC adverts
As marketers and brands, many of you use PPC ads to drive traffic to your brand or a customer's website.
There is nothing wrong with this approach.
Finally, PPC ads have obvious advantages. You can reach new customers, track your results, and manage your budget. Despite all of the advantages, these ads can sometimes be missing something.
Has anyone guessed what I was talking about? It's the human touch.
Humanizing your PPC ads can help you stand out from your competitors.
What do I mean by humanizing your PPC ads before I proceed? It means creating ads that evoke a reaction or an emotion. It can help your ads build connections and instill confidence in your market and ultimately grow your business.
It also takes you away from the nameless, faceless, robotic approach that, at worst, can be digital marketing.
Aside from those already listed, there are a few other great reasons to humanize your PPC ads and your brand in general. Let's dive in and then we are going to discuss different ways in which you can humanize your PPC ads.
Why should you humanize your PPC ads?
Humanizing your brand can give you a competitive advantage and improve customer loyalty. It shows that you have a customer-centric approach and understand your buyers.
However, humanizing your brand also creates customer trust, which is vital these days. The communications company Edelman says: "Trust has never been more important for companies to develop and maintain it."
Additionally, they found that 75 percent of people actively recommend companies they trust.
However, this is not the only benefit. Edelman: "Customers who trust you are more willing to engage with you, buy from you, stand up for you and defend you."
Now let's go deeper into some positive aspects that you can achieve by humanizing your brand.
Humanizing your brand gives you a competitive advantage
You may already know one of the benefits of humanizing your digital marketing: the competitive advantage.
Why? It's easy.
In an expanding digital world, consumers are interested in making connections and engaging with brands.
Making connections is critical to building long-term relationships. Then customer loyalty can be established.
Humanizing your brand offers a customer-centric approach
When you humanize your brand, you offer a personal touch at every stage of the customer journey.
This humanized approach takes the focus off you as a marketer or business owner. Instead, it focuses on what your customers want and takes your potential customers into account:
individual needs
Goals and ambitions
Challenges and pain points
Additionally, the customer-centric approach shows that you understand your customers' unique problems and can offer them solutions.
You benefit from customer representation and loyalty
Once you've successfully sold to a consumer, you want to do two things: keep them, and turn them into lawyers.
By humanizing your marketing, your customers may become more likely to become advocates and recommend your brand to others.
Then there is customer loyalty. You are more likely to retain your customer by:
10 ways to humanize your PPC ads
Now you understand the benefits. How do you humanize your PPC ads? Here are 10 easy-to-implement steps to get you started today.
1. Understand your target audience by creating personas
You have a product or service to promote, but who is your target market and how do you humanize your PPC ads accordingly?
With buyer personalities. Buyer personalities are a valuable asset as not every potential customer will react the same way to your PPC ad.
To attract your ideal customer, you want to target them by speaking their language, understanding their weak points, and offering them a solution.
This is where buyer personalities come into play.
Why are personas so effective? Because they enable the personalized approach. If you do this part right, you can humanize your PPC ads and reach your target market.
2. Create relevant ads
Yes, we're back to personas. With your Buyer Personalities, you can create relevant ads by giving them a clearer idea of ​​what your prospects are looking for.
You can humanize your PPC ads by better understanding buyer intent and using:
Google's "Related Searches" feature
a keyword tool
including specific, relevant keywords and long-tail keywords
Alternatively, you can work with an agency that can do the job for you.
3. Use pictures
Humanize your PPC ads with images. It doesn't have to be employee photos. Just add something that represents your company, what it offers, and what it stands for.
Google offers several ways to add images to PPC ads through discovery ads or the option to expand images. You can also use Facebook's carousel ads.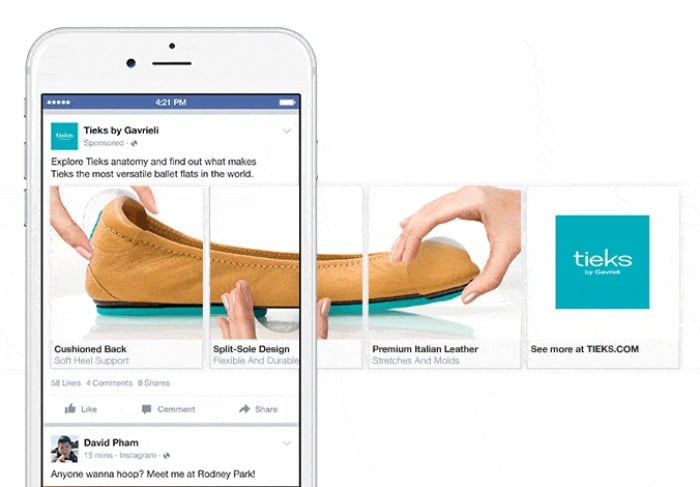 However, many other platforms such as Instagram, Pinterest or YouTube enable image-rich advertising and storytelling.
4. Use social media
Your buyer personalities are also good at shaping your social media strategy.
Use your personas to humanize your PPC ads by understanding where your ideal buyers are. Then you can target them on the platform of your choice.
Websites like TikTok, Facebook, and Instagram allow you to personalize your PPC ads for better results.
5. Keep testing
Constant testing can mean that you won't get stuck in your usual advertising patterns. How do you put that into practice?
By varying your PPC campaigns. You can do this through regular A / B testing to determine which items are best for your audience.
For example, you could test:
Long-form keywords
Colours
Calls to Action (CTAs)
Test and tweak the results until you know you can find the right balance.
6. Go beyond keywords
Keywords can only do so much. Yes, they can help get your ads in front of the right people, but they lack personalization.
Consider four other key areas of your marketing to further humanize your PPC ads:
Demographics
motivation
Challenges
Gates
Simpleview recommends applying these properties to people traveling to optimize your PPC results. However, these attributes work just as well for just about any other niche.
Take demographics, for example.
Depending on the age group of the audience you're targeting, you might want to modify your ads to "talk" to that particular group.
Likewise, the motivations, challenges, and goals are likely to be different for each group.
7. Use storytelling
I've already mentioned the value of consumer trust, and there's an easy way to build on it: with storytelling.
Successful ads often use storytelling at the center of their ads, and Instagram Stories have made it accessible.
Instagram isn't the only way, however. For a similar approach, try out Facebook's carousel ads or a Twitter follower campaign.
Here are some ideas if you are new to storytelling:
Employee profiles or an article from everyday life so that your audience can get to know you better
Customer success stories
Highlights of a product or service
Reviews or explanatory videos
8. Inject a personality
Think about it: Are your prospects more likely to click an ad that sounds like everyone else's?
Or do you choose a PPC ad that stands out and speaks for itself?
The first impression many customers get of your company is online ads. So you have to reflect your brand.
Use the same tone for your ads as the rest of your marketing to provide more consistency and familiarity to your customers.
9. Don't use the direct selling approach
The direct selling approach can be daunting to consumers. Instead, you can focus on getting the prospect to click on your website, give you their details, and then carefully steer them towards the sale.
Customer mapping might help with this approach. If you use customer journey mapping, you can:
understand the most important touchpoints for the customer
Identify your client's goals
Nurture your leads by customizing ads to encourage them to buy
10. Just keep it stupid (KISS)
After all, keep it simple, dumb (no offense). It is believed that Kelly Johnson first used the term in the 1960s when it was originally applied to design concepts. However, this also applies to the creation of content.
There's a reason the term is still used today: Sometimes marketers like to complicate things, but they don't need to.
If you want to more humanize your PPC ads, keep in mind that you have a limited time and characters. Make each word count by:
Keep your language clear and straightforward
explain the benefits
Write with your ideal buyer in mind and use keywords
Graduation with a CTA
Examples of great humanized PPC ads
The big brands can teach us a lot about how to better connect with our perfect consumers. Here are three of the best.
Snickers
Remember the Snickers' you're not you when you're hungry PPC campaign?
The Snickers ad made a number of deliberate misspellings in its online advertising. More than ten years later, the ad is still showing results.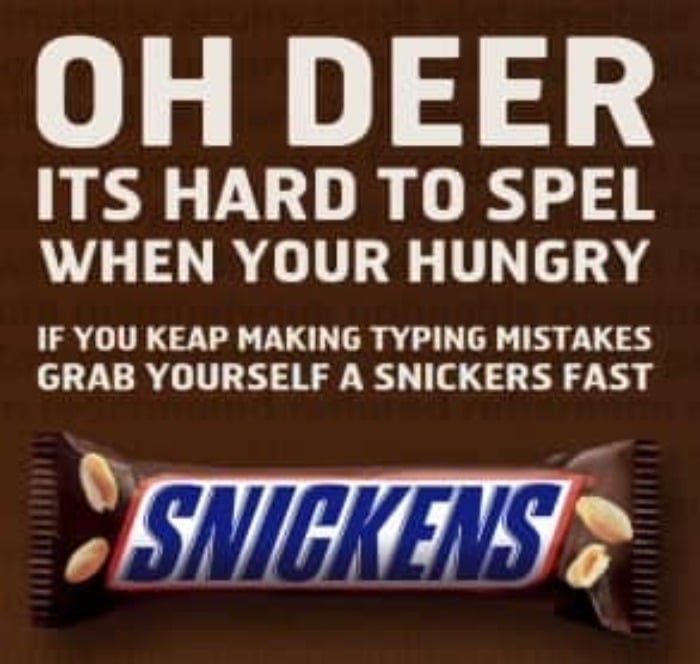 Why did it work so well? Because consumers can relate to it. Everyone recognizes this "hangry" feeling.
The Snickers ad is also novel, shareable, and memorable – anything any advertiser can use in their marketing.
Vice versa
Instead of making full sales straight away, Converse used "Converse-ations" to reach out to its younger audiences.
Working with advertising agency Anomoly, Converse included keywords that teenagers could use when searching online, such as: B. "Spelling Bee" or "How to Talk to Girls".
Converse's campaign made it possible to start a dialogue with buyers and use ad copies and microsites to motivate consumers instead of following the traditional advertising approach.
The "Domaination" campaign was effective in providing helpful, relevant content and building connections with potential buyers.
Alec Brownstein
Search online for "best PPC ads" and the name "Alec Brownstein" is often in the top 5.
Who is he? He was a job hunter who came up with the idea to bid on the names of five creative directors.
Brownstein's ad looked like this: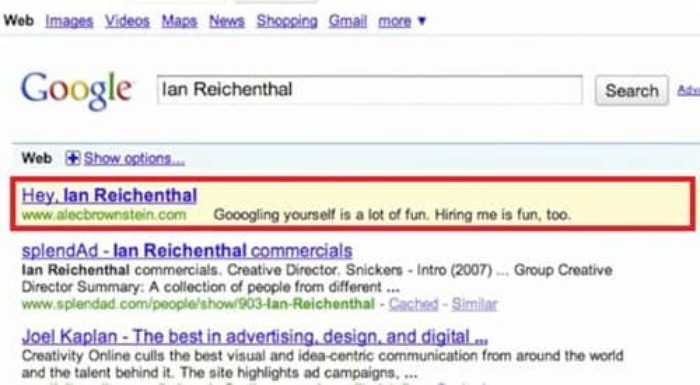 When the creative directors Googled their names, they found Brownstein's ad and website. As a result, Brownstein was offered the dream job by one of the creative directors he targeted.
Brownstein's ad was successful because he took the initiative by thinking as he expected the creative directors to do. Many of us Googled our names, and Brownstein assumed the creative directors would do the same.
There's a lesson here for every advertiser: Think like your ideal audience, and create innovative new ways to reach them.
Conclusion
With the boom towards digital, your marketing can sometimes lack a personal touch. However, consumers want to know who they are buying from and they want to build relationships with brands to build trust.
When you humanize your PPC ads and other forms of your digital marketing, you also open a line of communication that invites consumers to learn more about your brand.
Snickers and Converse are two brands that did this well, and you can learn from them and apply them to your marketing.
Creating ads that evoke emotions and build relationships is straightforward. Just follow the tips in this article and you will be well on your way to humanizing your advertising and building lasting relationships with happy customers.
When you're ready to launch a humanized PPC advertising campaign and need help with strategy, reach out to our team of experts.
Are you humanizing your PPC ads and digital marketing? What is your approach?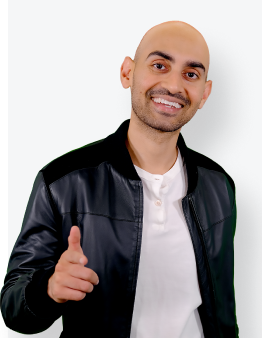 See How my agency can drive Firmly Traffic volumes on your website
SEO – Unlock massive amounts of SEO traffic. See real results.
Content Marketing – Our team creates epic content that is shared, links accessed and visitors drawn.
Paid media – effective paid strategies with a clear ROI.
Book a call
---
COMMENTS