Grandma Elsie's forged iron apple crisp – #ThanksgivingRecipe
When a pumpkin pie isn't enough for your Thanksgiving audience, please your guests with this warm, soothing caramel and apple crunch. Serve straight from the cast iron pan, just like Grandma Elsie used to do. We used local Gravenstein apples, but you can also use your favorite variety (Honeycrisp, Jonathan, Mutsu, etc.) which are perfect for baking.
Ingredients:
For the caramel sauce:
2 cups of granulated sugar
¼ cup of water
¾ cup unsalted butter (1½ stick), diced
1 cup of heavy cream
1 teaspoon vanilla extract
1 teaspoon of kosher salt
For the filling:
3 pounds firm, tart apples, peeled, cored, and sliced ​​(about 6 medium-sized apples)
1 tablespoon of fresh lemon juice
1 tablespoon of Elsie's spice mixture
½ teaspoon of ground cinnamon
½ teaspoon of ground cardamom

⅛

Teaspoon of ground cloves
Pinch of kosher salt
For the crispy topping:
1 cup all-purpose flour
1 cup of old fashioned oats

⅓

Cup of chopped pecans or walnuts

⅓

Cup of light brown sugar
½ teaspoon of kosher salt
½ cup unsalted butter (1 stick), softened
Directions:
Prepare the caramel sauce
Put sugar and water in a saucepan and stir. Add the diced butter and set on medium heat. Cook without stirring until the butter and sugar are completely melted and begin to bubble (4-5 minutes).
If the mixture is starting to brown around the edges, stir occasionally with a spatula and scrape the sides and bottom of the pot. When the mixture is deep golden brown and just starting to smoke lightly (4-5 minutes), remove it from the heat. Be careful that the caramel can be burned from golden brown to when you turn your back.
Gently stir in the cream for a smooth sauce. Add the vanilla and salt. If you discover lumps, return the pan to low heat and whisk until smooth. Pour the caramel sauce into a heat-resistant container to cool.
Prepare the filling
Place a rack in the middle of your oven and preheat it to 350 degrees. In a large bowl, add the sliced ​​apples, lemon juice, spices and salt and stir. Drizzle half a cup of caramel sauce over the mixture and stir again. Scrape the apple mixture into a 9- or 10-inch cast iron pan (or other ovenproof pan).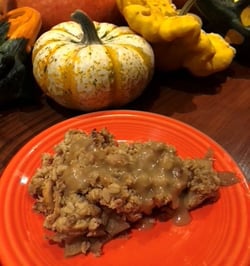 Do the topping
Mix the flour, oats, nuts, sugar and salt in the now empty bowl. Stir until well blended, then add the softened butter. Use your hands to mash the dry ingredients with the butter until you form crumbs. Spread the crumbs evenly over the apple filling in your pan. Place in the oven for 40-50 minutes, until the topping is golden and the juices are bubbling.
Serve crispy
Cut into individual wedges (8-10 people) and place on individual plates or bowls. Serve warm with more warm caramel sauce and ice. You can store any leftover caramel sauce in an airtight container in the refrigerator for about a week. You can warm up the caramel sauce in a saucepan over low heat.
A special thank you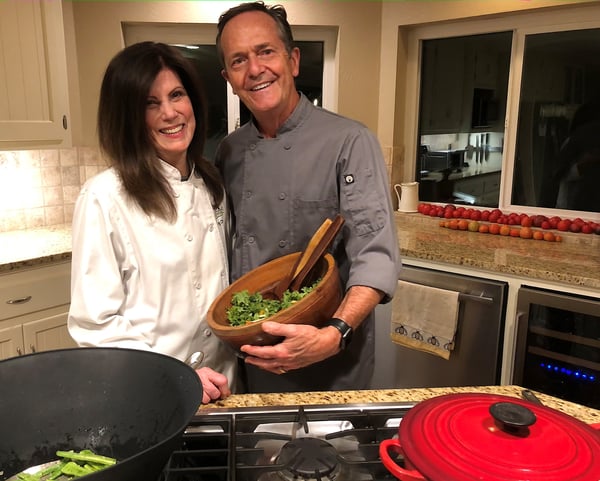 We'd also like to especially thank our food partners Brad Whitworth and Peg Champion from Grandma Elsie's West Coast Test Kitchen for sharing this recipe with us.
Are you going to make Grandma Elsie's Cast Iron Apple Crisp this vacation? Tag us in your photos on Twitter @ThoughtPartner if you do!
– –David Grossman
This is an adapted recipe from food photographer and stylist Yossy Arefi. Check out her award-winning blog, Apt. 2B Baking Co.
If you're interested in having all of Grandma Elsie's recipes in one place, click the image below to download the official recipe cookbook (free!):
---
COMMENTS