discover Instagram influencers
It's hard to believe that Instagram started in 2010. It has become a marketing powerhouse.
There are 1 billion monthly active Instagram users, more than half of whom use the platform on a daily basis. US companies also love the social channel, and around 71% use it to connect with their market.
While Instagram isn't the biggest social media platform (this spot is owned by Facebook), it's still the most powerful influencer marketing channel.
In this age of social media, the power of Instagram is simply undeniable.
As the website continues to grow exponentially, companies and brands everywhere are also taking advantage of the social network by partnering with Instagram influencers.
How do you find the best Instagram influencers for your marketing campaigns?
Why you need Instagram influencers
To understand how powerful Instagram is, you first need to understand what engagement rates are and what they mean for your marketing campaigns.
Engagement rates refer to the number of likes, comments, and approvals an influencer receives when posting content online. It turns out that Instagram has the highest engagement rates of any social network.
SproutSocial found that Instagram influencers received an average engagement rate of 1.6 percent, while Rival IQ found that Facebook is significantly behind with an average engagement rate of 0.09 percent.
Higher engagement rates mean that when working with influencers on Instagram, their followers will be more aware of content than on Facebook.
People learn about new brands from Instagram
Another insightful statistic shows how influential the platform is in helping people get to know new brands.
For example, 60% of Instagram users say they learn about new products on social networks.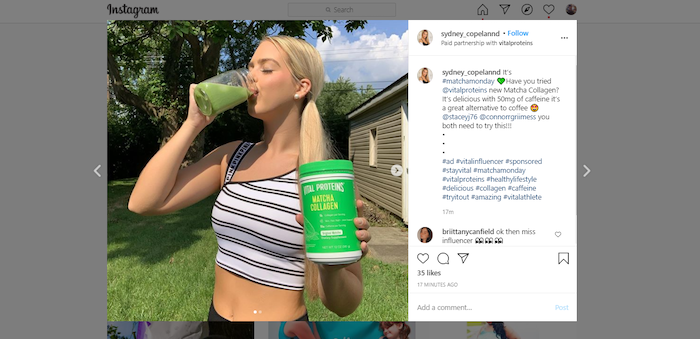 This is great news for startups and small businesses.
While digital marketing has opened the door to businesses of all sizes to connect to their markets in a cheaper way than traditional marketing, the reality is that the playing field is not level.
Big companies and organizations have bigger budgets. You can usually put larger teams behind your marketing campaigns and thereby quickly draw attention to your new products.
On Instagram, users often notice new brands and products – sometimes even those without the bells and whistles of a full marketing campaign.
Many users on Instagram have disposable income
It's great that there are high engagement rates and that Instagram people can learn about your products. Perhaps the most important data, however, is that a good number of Instagram users have money – and are ready to spend it.
A study by Snowmad found that Instagram is used by:
31% of people who make more than $ 75,000 annually
32% of people who make $ 50,000 to $ 74,000 annually
32% of people who make $ 30,000 to $ 49,000 a year
In addition, 70% of Instagram users browse products on the website and 80% follow at least one brand.
All of these numbers are great for brands looking to increase brand awareness and make sales.
However, one thing is not so clear: How do you find the right influencers who make sense for your brand and generate a high ROI?
How to Find Instagram Influencers for Marketing Campaigns
Did you know that there are 500,000 active influencers on Instagram?
While there are many influencers to choose from, not all are created equal. In addition to the varying reach, many are likely not suitable for your brand.
This step-by-step guide is designed to help you connect with influencers that your target audience is following.
Outline your goals and metrics
First of all, you need to decide what this Instagram influencer campaign is about.
Are you trying to increase sales?
Is it about increasing brand awareness?
Are you about to launch a new product?
Your goals are at the core of your campaign, and those goals should guide every decision you make.
In addition to understanding your goals, you also need to clearly define your metrics. How are you going to measure the success of your Instagram marketing campaign?
Let's say you work for a youth beauty brand that is launching a new range of lipsticks.
Here is an example of what your goals could be:
For the campaign, we are working with young beauty influencers on Instagram.
These beauty influencers review the range of products for their followers.
In addition to product reviews, we want influencers to talk about the product in their Instagram stories as these are powerful marketing tools.
We want to exceed sales of our last lipstick line by 30% within the first month.
The more detailed and specific the plan, the easier it can be to monitor your campaign to see how successful you are and what you may need to tweak.
Define the right influencer for your brand
Your brand voice is vital to all of your digital marketing campaigns. However, many marketers and brands struggle to define theirs.
Your "brand voice" is the way you talk to your customers. It includes style of language, brand values ​​and personality.
The more defined and consistent your brand voice, the more trustworthy your audience can perceive you. Who trusts a brand with a constantly changing message?
Defining a solid brand voice can take time. To get you started, you can use a free online branding quiz.
Kaye Putnam's brand personality quiz is an insightful one.
All you have to do is answer 16 questions like: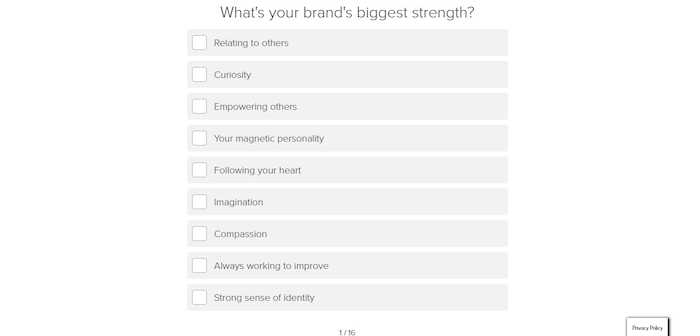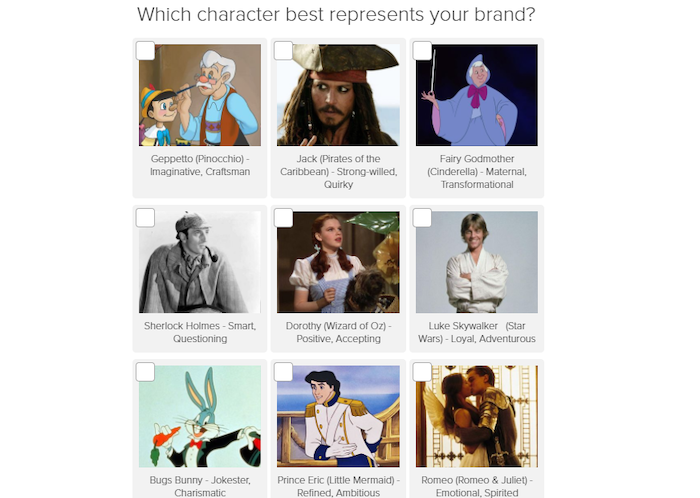 Not only is this quiz fun, it is effective. When you're done, you'll get a detailed report on your top brand archetypes. This information could give you valuable insights into better positioning your brand to communicate with your market.
You don't have to use all of the pointers from the guidelines of these free tools. However, a detailed analysis of a possible brand style, look, and feel is a great way to find inspiration.
Once you understand your brand, you need to figure out who your market is.
Who are you and what do you do for a living?
Who do they follow and get involved in their social networks?
Thorough target market research can help you better understand your market, including finding influencers to follow.
If, besides creating influencer campaigns, you want to learn how to expand your personal or your company's Instagram account, check out my Instagram Unlocked course on Youtube:
Try Google first
After knowing your goals, brand, and target market, a Google search can help you find a good pool of Instagram influencers to choose from.
Let's use the example of a beauty brand from the past.
First, do a general search for "Top Instagram Beauty Influencers".
After searching, make sure you have the most relevant search results. A beauty influencer who was great six months ago may not be as relevant today.
First, navigate to the Advanced Search section. You can find this in your settings.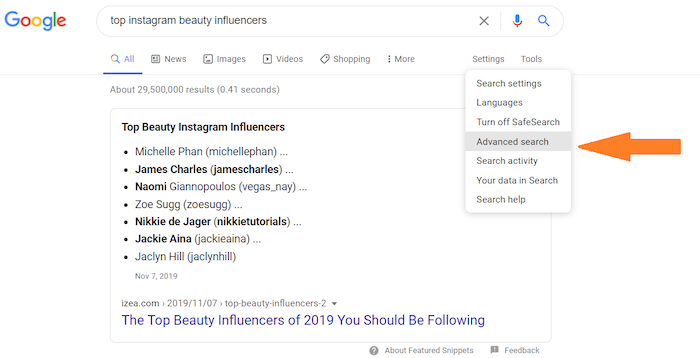 From there you can change those last update Section. I changed mine to that last month. This will give you the latest results on the topic.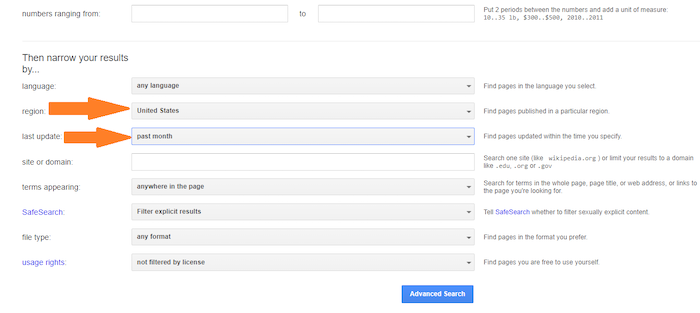 In the Advanced Search area, you can also limit your search results by region. This little tool is perfect when your product will only be available in certain areas. What's the point of getting search results from leading European or Asian influencers if your product is only available in the US?
When you get the SERPs, use the first few pages to see if influencers are piquing your interest.
Search on an influencer platform
There are many influencer platforms out there, each with advantages and disadvantages.
The best thing about an influencer platform is that unlike doing a Google search and crawling through hundreds or even thousands of influencers, an influencer platform does the hard work for you.
You will also get more details about your potential influencer.
For example, here is a profile of an influencer from HYPR, an influencer platform.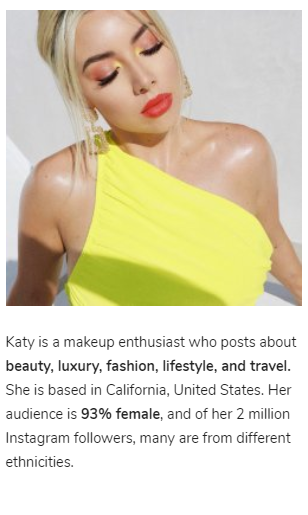 Get information about your influencer, their demographics, their niche industry, and more.
Influencer platforms also provide details on psychographics and audience locations, as well as influencer engagement rates.
As you search influencers and make a list of potential people to work with, keep the following in mind:
Analyze the content they create
Does it connect with your brand voice?
Check out their content on other social channels to make sure the influencer can be a real representative of your brand.
Measure their engagement rates
As mentioned earlier, a good engagement rate means that the influencer will grab the audience's attention when they publish content about your brand.
There are several ways to calculate this. You can read this post on Hootsuite to discover different methods.
Appreciate the value of micro-influencers
A study by Markerly, an influencer marketing platform, found that Instagram influencers with more followers see less engagement.
This proves that micro-influencers – those with good but not overwhelming followers – can be more effective than macro-influencers or celebrities in your social media campaigns.
Micro-influencers have gained followers who respect their expertise and opinions on specific topics. They often create content that they know and care about. Your social following is more of a community than an audience.
Hence, working with some relevant micro-influencers can help you get your content out to the right audience.
Conclusion
Using Instagram can often be a fantastic way to get people to notice your products and buy them.
But it's a double-edged sword. Although you have many options, it is difficult to know who the right solution is.
Don't forget to outline your goals and brand voice. Then consider influencers' engagement rates.
Who is the right influencer for your brand?
---
COMMENTS